Child Care Programs
INFANT 6 WEEKS TO 2 YEARS
The 6 week to 2 year child care program is designed for developmental experiences. Our teachers know that the parents are their children's first and best teachers, so our staff includes the whole family into the program with open houses and one-to-one parent conferences to ensure your child is learning appropriately.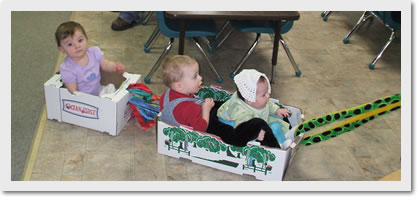 For Infants:
• staff provides relationship-based activities
• individualized programs
• one-on-one time to develop daily routines
• exploration of sensory awareness with colors, textures, sounds and feelings
• plenty of 'tummy time' to build increased muscle control and stamina in preparation for crawling
• activities and interactions to support development in all areas, including social-emotional, cognitive, physical and language
For Toddlers:
• the opportunity to explore and develop new abilities in protective surroundings
• muscle coordination is developed with age-appropriate toys
• group interactions are used to build verbalization and social skills
• teachers stress independence, self-esteem and a love of learning opportunities to celebrate diversity
• responsive planning
• positive guidance strategies
• help with toilet training
---
PRESCHOOL 2-4 YEARS
Our preschool program helps prepare your young children to enter elementary school. We have planned activities based on themes which allows play and exploration for learning. The program allows for guest speakers and field trips, including lessons based on cooking, music, and literature.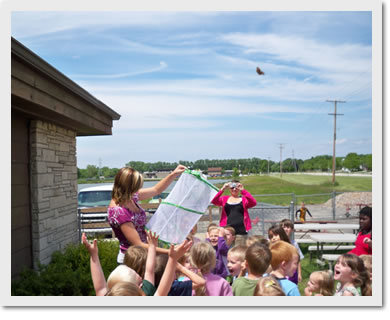 Program Highlights:
• Explained Based Learning Focusing on Positive Re-enforcement
• DPI Certified Teacher and Certified Instructional Assistant
• AM & PM Sessions (2 hrs 40 mins Mon-Fri)
• 4 year old Kindergarten on site through the Fond du Lac School District
• Wrap around Child Care available Before and After 4 yr old Kindergarten
• Outdoor Play Area (Exercise Time)
Other items we offer are field trips which include places like Apple Orchard, Fire Station, Children's Museaum, Nursing Home, Pet Store, Christmas Caroling, Dentist, Library and others.
---
SCHOOL AGE
We offer a before and after school program with transportation to Lakeshore, Roberts, Rosenow and Waters.
• Theme Based Morning Activities
• Center Based Play or Homework Time
• Outdoor Play
• Afternoon Snacks
• Afternoon Field Trips: bowling, skating, soccer park, swimming, tours, library, etc. (additional fee may be required for certain activities)
• Nutritious Meals & Snacks with a weekly menu for selection of a hot lunch ($1.70/meal)
• Open half walls to allow more interaction between children & staff
Family Focused Discount for Full Time Additional Children.